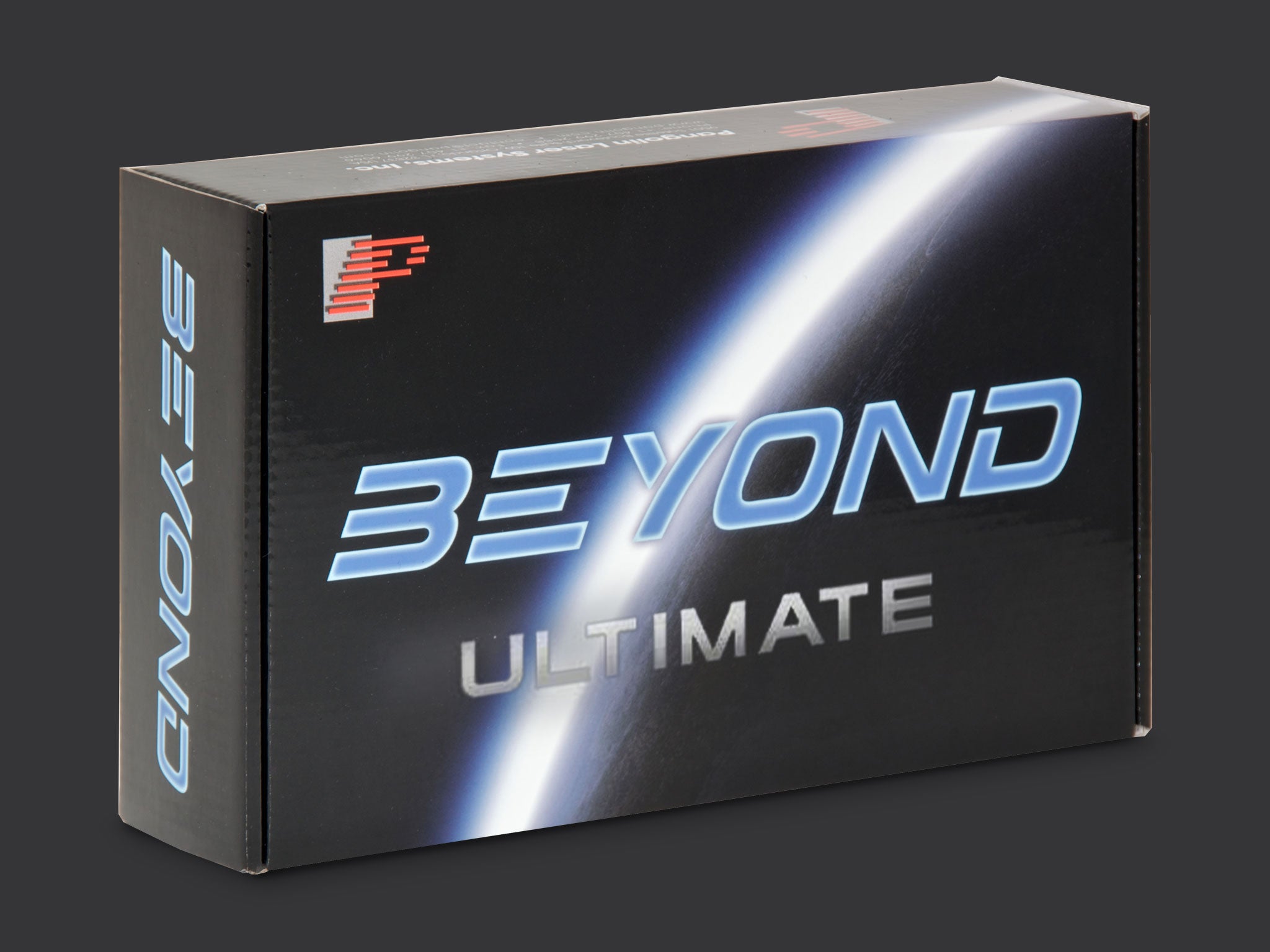 BEYOND Ultimate
BEYOND is a professional laser design software made for lighting professionals and used to create the world's highest-quality laser shows and effects.
BEYOND supports all lighting protocols, including DMX, ArtNET, MIDI, SMPTE timecode, OSC, and CITP, making it easier than ever before to integrate lasers into any multimedia show or design.
BEYOND provides you with a complete suite of tools to create any sort of laser display you can imagine and then gives you the functionality to control your content however you desire (from a lighting console, PC, over timecode, from a MIDI device, or in combination with other multimedia elements).
This Ultimate version offers all the features for a professional level of show production.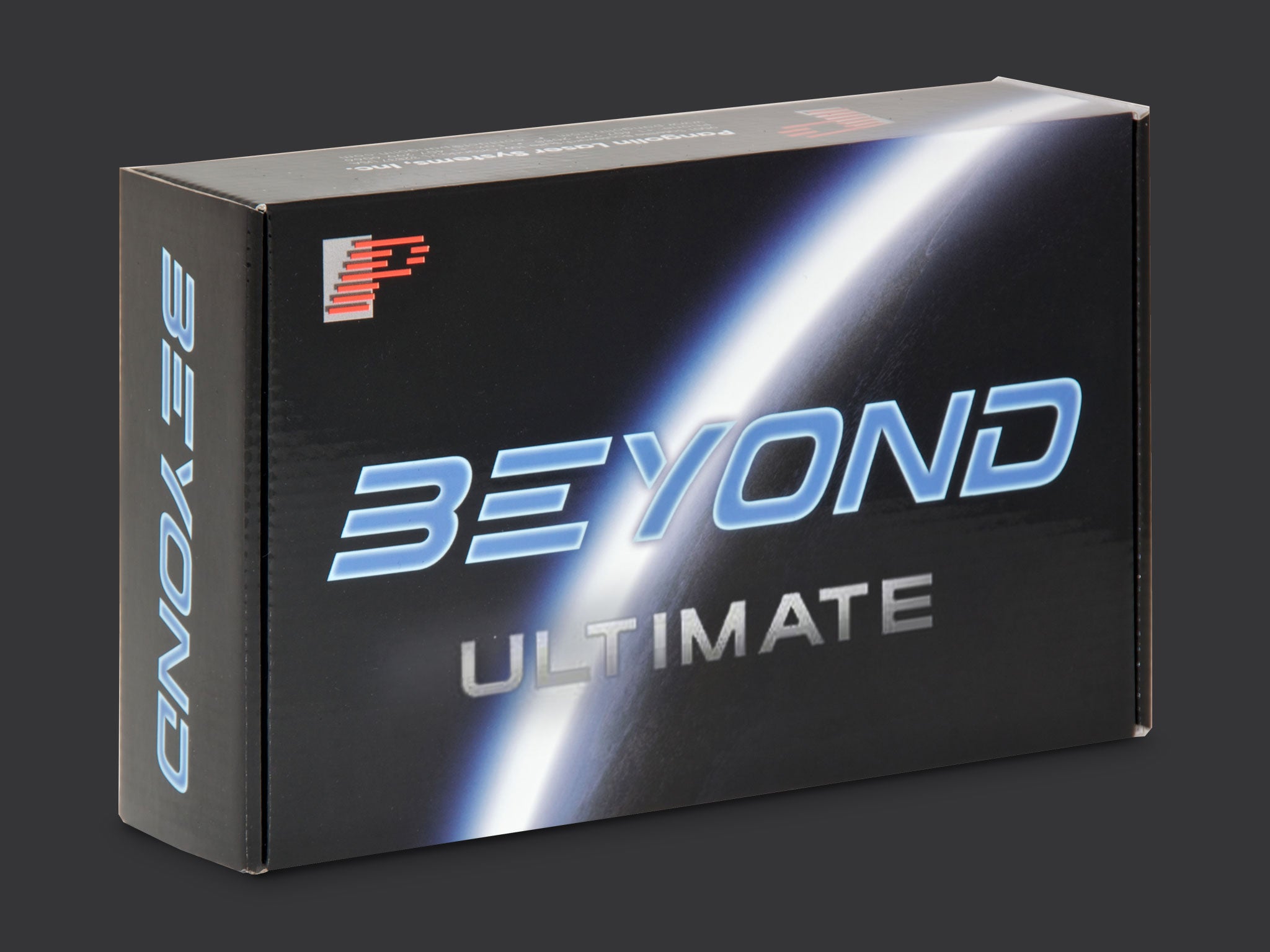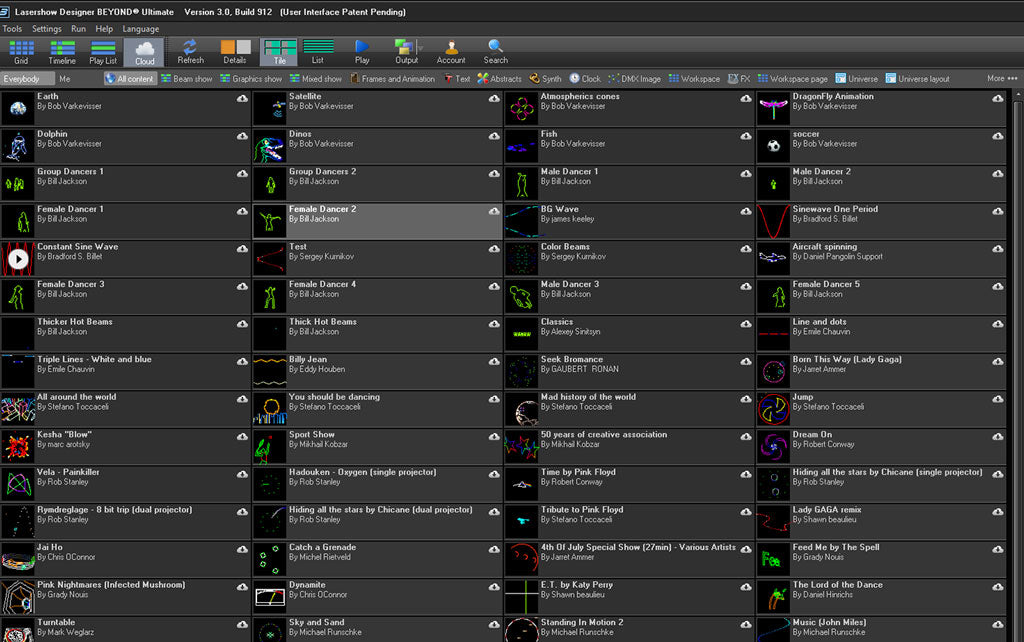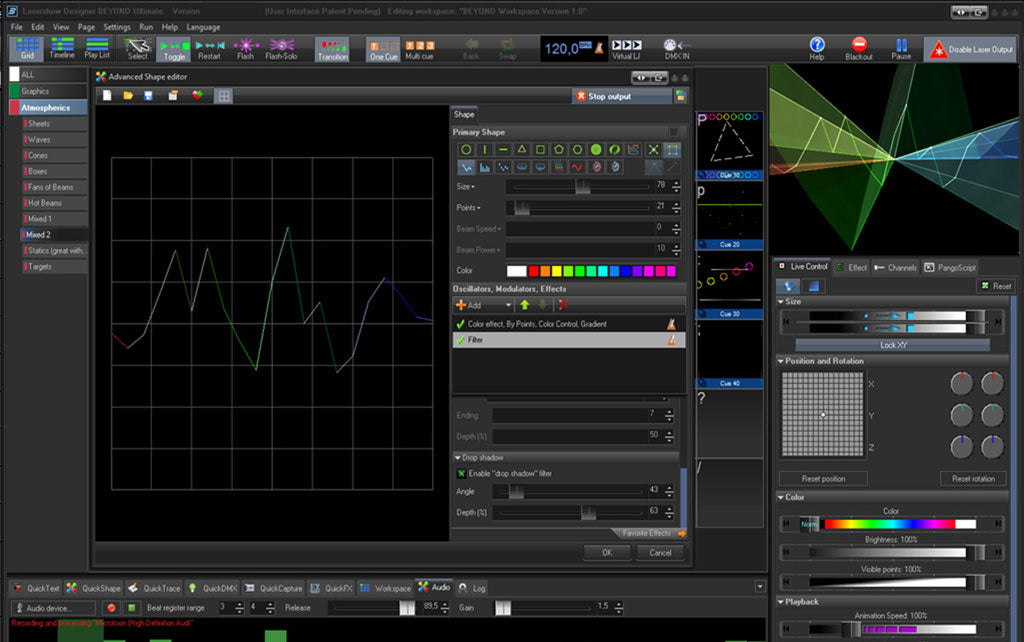 VIDEO
Pangolin BEYOND - Professional Laser and Multimedia Show Control Software
Description
WHAT IS BEYOND
BEYOND is the world's most powerful laser and multimedia control software. Lighting professionals use it to design, create, program, visualise and render laser effects.
BEYOND is a proper multimedia software package created to help make it easy for you to integrate lasers into any setup and combine those lasers with audio, video, pyro, and other special effects.
BEYOND allows you to design all types of laser effects - from aerial beam effects to graphics, text, logos, 3D animated objects, laser mapping sequences, and more.

MAIN FEATURES (DEPENDING ON VERSION)
Advanced Live Control - BEYOND has the world's most advanced live laser show engine, with incredible support for MIDI, DMX and ArtNet devices. But it supports all major industry protocols.

A true Multimedia Timeline - The BEYOND Multimedia Timeline allows you to combine laser, video, audio, DMX lighting and more in an easy-to-use and convenient place. Because of this, BEYOND is widely used throughout the lighting industry as the central control system for complete multimedia show performances (combining lasers, video, lighting, audio, pyro and more).

Laser control for Lighting Designers - Control lasers from most lighting consoles out there.

3D Laser animations and content - BEYOND 3D is an advanced 3D animation and editing program for laser displays. Using BEYOND 3D, you can create animated 3D laser content, 3D laser text, graphics and logos. BEYOND 3D is also compatible with other 3D animation and drawing programs, including 3D Studio Max, Cinema 4D, Maya, Blender, and others that support the FBX file format.

Advanced Drawing Program and Frame Editor - BEYOND includes an advanced drawing program and frame editor that makes creating custom content and editing existing content easier. It works similarly to the popular Photoshop program but was explicitly designed to support laser content and frames.

Laser Mapping - Our advanced geometric correction tools and free-form mesh make the laser mapping of nearly any object easier than ever before.

Abstract Generators - BEYOND comes with two different abstract editors that can be used to create stunning abstract laser displays.

Interactive laser displays - Make your lasers move with your body movement. BEYOND's powerful interactive laser features allow you to create truly interactive laser light shows.

Customise BEYOND for your needs with PangoScript Tool - PangoScript is a tool inside of BEYOND that allows you to access the software's core and customise it to meet your needs. Using PangoScript, you can write individual code commands to execute just about any function you can imagine.

BEYOND Universe - The BEYOND Universe is an exciting feature that allows you to create customised workspaces within the software to meet your specific show needs. For example, suppose you wanted a protected (locked) workspace for a client with specific sliders for colours, brightness, rotation, DMX triggers, etc. All this is possible using the BEYOND Universe.

BEYOND software is available in three versions:

Essentials
Advanced
Ultimate
As a BEYOND client, you can upgrade your software between the different versions as you see fit. And this can be done at any time.

There are two distinct purchasing options for BEYOND software, giving you the freedom to choose which method or option works best for you.
With a Lifetime License, you own the software for life and can use it as long as you desire (so long as your computer operating system remains compatible).
With a Rental License, you can choose the duration of time you want to use the software and pay as you go. We offer a 1-month rental license on the site. But we can also customise the time if needed or desired (please get in touch with us if you have a unique time request).

BEYOND License Types

Hardware
Internet
PCID (development and testing purposes)
Hardware License
When you choose this option, BEYOND software is licensed to your Pangolin hardware device. Hardware licenses are great for Permanent installs, touring, or client's who prefer a "dongle style" setup and independence from the internet (offline).

Internet License
When you choose this option, BEYOND software is licensed to your user account. This license type is excellent for clients who prefer flexibility in their license structure and may want to move the license from one PC to another.

How does the purchasing work?
The BEYOND software is purchased in our e-shop, and after you complete the checkout, you will receive the license code via email from our server within 24 hours.