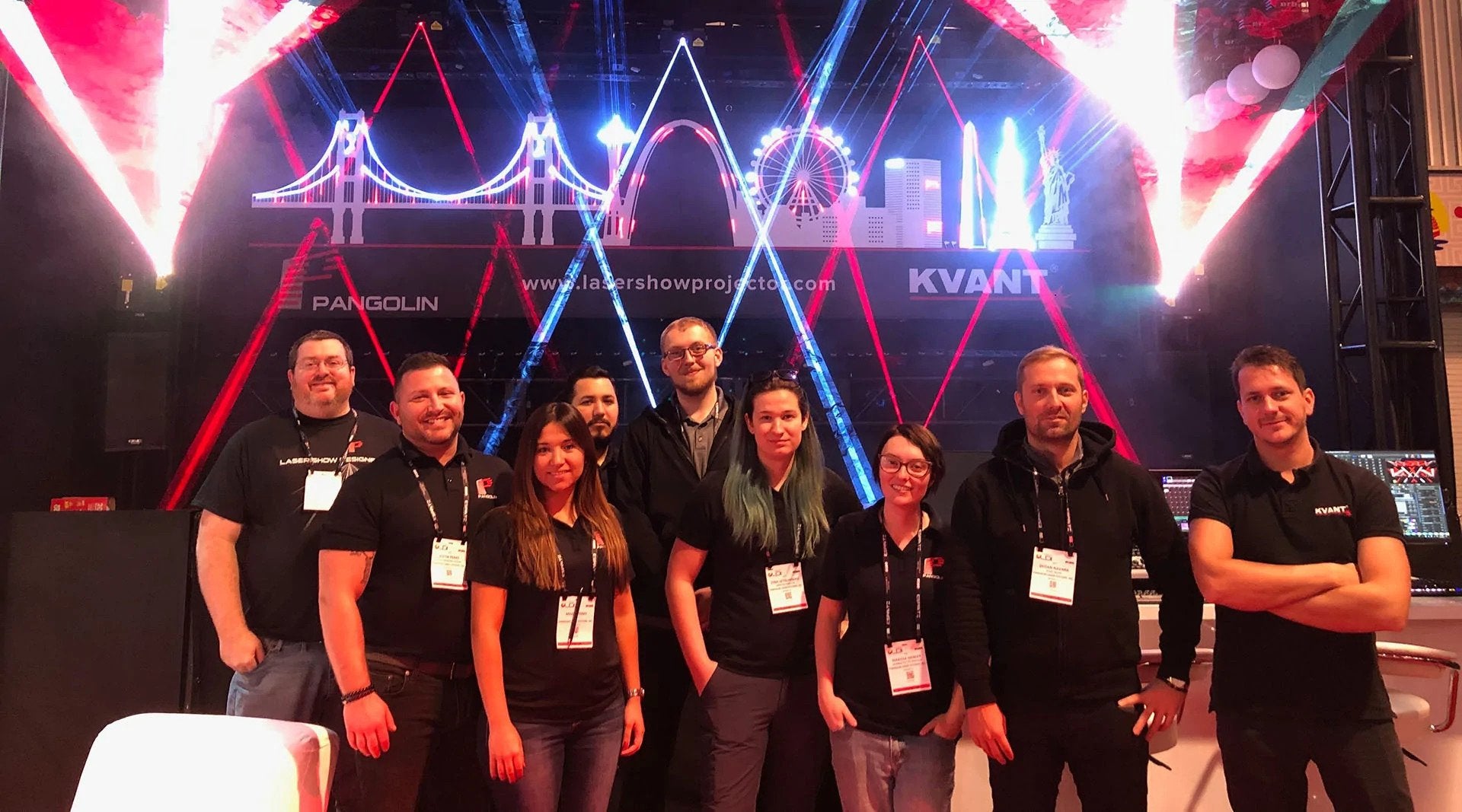 HISTORY
Envisioned over half a decade ago, and formally established in 2020, UNITY is a joint venture and partnership between Pangolin and KVANT, created to help bring a new range of retail-based laser projection systems, to the global marketplace.
MISSION
UNITY's mission is to spread the joy of laser light to more people around the world, through the development and distribution of new laser display technologies that are built with integrity, economically priced, and backed with amazing support... Making quality laser technology more accessible, to clients around the world.
VALUES
Honesty – You can trust that UNITY products adhere to the same high-quality standards you have come to rely on from Pangolin and KVANT. And you can have full faith that the specifications listed for all of our products are 100% accurate, and independently tested and certified for compliance and safety.
Service – The UNITY group, and all staff across our global team base share the same belief… That our #1 priority as a company, is to serve you, our clients. As such, we provide FREE training, FREE support, and a global repair and support network spanning three continents, to ensure you are taken care of. We also employee multi-lingual staff, fluent in English, Spanish, German, Portuguese, Japanese, French, Russian, Chinese, Slovakian, and Czech, to ensure you can communicate with us in a comfortable fashion. Simply put, we will always have your back, and ensure your needs are met.
Passion – Here at the UNITY group, we are all passionate laserists and lighting designers ourselves. Many of those on our staff were in fact clients, before joining our team. As such, we share a deep passion for the laser and lighting industry, and the for the people we serve inside of it. We can assure you that as a client of UNITY, you will always have a friendly, knowledgeable and helpful representative to work with – whose main focus in building relationships with you, not on making the next sale. We care, and you will feel it through the passion we put into our work.
Quality – UNITY products are produced to be more aggressively priced, and to cater to the retail marketplace. All systems offered are thoroughly designed, tested and configured to ensure quality performance. We're not falsifying specifications or cutting corners like some others do. Instead, we're finding new and innovative ways to reduce costs, and passing the savings onto you. So you can be sure you get a quality product, at an affordable price, with first class service to back it up.
PRODUCTS
UNITY products deploy unique laser technologies developed by Pangolin and KVANT, that allow us to reduce the costs of building and producing laser projectors, while still providing dependable, reliable, and quality products. We offer systems ranging from 1.5W all the way up to 30W. With customizable options to help meet your needs, and budget. So no matter the show, project or event, between UNITY, Pangolin and KVANT, you can be sure we will have the right laser display systems, for your specific and individual needs.
OUR PROMISE
We promise to provide you with dependable laser display technology, that is aggressively priced, and fully supported. We also promise that if something goes wrong, you can be sure that you will have the world's largest laser support team there, to back you up. WE VALUE RELATIONSHIPS, AND WILL ALWAYS HAVE YOUR BACK, PERIOD.